Trauma Resources International currently has four partnership projects:
1. Ke Ansamn ("Hearts Together") 
Ke Ansamn began January 13, 2010, shortly after TRI was created. In the wake of the devastating earthquake that shattered Port au Prince, Leogane and Jacmel, Haiti, TRI partnered with local organizations to distribute funds, supplies, and to provide education, training and logistical support to three long time partners. Please see our archive for details.
In 2017 TRI/Ke Ansamn partnered with Dance to Save Lives (DTSL). DTSL is an Indigenous Haitian Organization (IHO) founded and operated by Dieufel Lamisere. Lamisere is an Internationally recognized Master teacher in Haitian Folklore culture. After traveling and working throughout the western hemisphere he returned to Jakmel, Haiti in 2013 with the dream of offering Haitian youth access to artistic opportunities rooted in their own cultural identity. Recognizing that culture is medicine, DTSL creates a culturally safe space that keeps children off the streets and nourishes the brilliance of the next generation of Haitian artists and leaders. DTSL focus is to provide Haitian youth with the necessary resources to be the stewards and authors of their own narratives. We are proud that DTSL programs are based in Haiti, run by Haitians, and focus on serving Haitian communities in Haiti first. This instills a sense of pride, strength, and ownership in our youth. TRI supports DTSL's as a fiscal agent, so that donations from the U.S. (and elsewhere) can go directly to their programs, and we offer training to the DTSL team and students in Dance/Movement Therapy, Understanding the Effects of Fear, Stress and Trauma, and other topics as requested.
For more about DTSL, visit:
https://dancetosavelives.webs.com/
https://www.facebook.com/dancetosavelives
HaitiDansco 2020 Fundraising Performance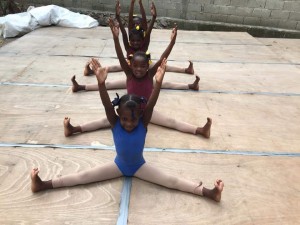 2. Cosmo's Heart Animal Rights Project
Cosmo's Heart is TRI's animal rights and rescue project. Through this project, TRI partners with rescues in the Pacific Northwest, the Midwest and Canada to find loving forever homes for dogs at Moreno Valley Shelter (MOVAL) who are out of time. After several years of pledging for euth-listed dogs at MOVAL, a shelter volunteer invited TRI's Director to submit paperwork to become a rescue partner. TRI supports the rescue of approximately 100 dogs/year by overseeing the logistics of the rescue. We "pull" the dog from the shelter, and arrange transportation to a vet for a full health check, all vaccines and any necessary care. We board the dogs until they travel to their new home, and arrange their transportation to freedom.
The inspiration for this project, Cosmo, was a mini long-haired dachshund found wandering alone, skinny, straggly and scared in Galisteo, NM. Like so many rescue dogs, Cosmo rescued TRI's Director, Amber Gray, as he entered her life at a very painful time. His fierce, unconditional love; endless trust and soft, cuddly loyalty earned him the title "The Gandhi of Canines" amongst almost everyone who his tender paws and open heart touched. Cosmo's Heart project catalyzed the expansion in TRI's mission from human rights to planetary rights. All donations to Cosmo's Heart go to medical expenses, transportation and boarding so that the rescued pups can arrive to their new homes as healthy and settled as possible. Check out Cosmo's Heart Facebook page for more information.
Check out a few photos of our previously rescued pups:
Blanca
West and Maggi
Gabe and friends
Candy
Our partners are:
– Moreno Valley Animal Shelter
– Dog Lovers Creed/Belmonte Rehabilitations – The masterful Rick Belmonte helps our rescue pups with behavioral issues prepare for life as a pet.
– We send 3-5 dogs a month to Seattle Humane's Lifesaver Program.
3. Heart Centered Healing Veterans Project: Haʻapai, Tonga 
This pilot research project literally began with a dream about whales. Subsequent dreams of whales initiated an inquiry into whales compassion, vagal tone, free-diving and blue mind. Through interactions with humpbacks in the South Pacific, and dissertation research, Dancing the Wild Home, a restorative movement and whale encounter retreat was born. After 5 years of running this eco-somatic, wildzeness retreat, TRI is offering a similar retreat to veterans and service members suffering from PTSD and/or experiencing challenge reconnecting to life, post-combat.
TRI has a long history of working with veterans. TRI's Life Rhythms Project worked with the New Mexico Department of Veterans Services; The Raven Drum Foundation; Sanctuary One Women's Retreats; New Mexico Veterans Integration Centers; and Women Veterans of New Mexico. The Veterans Heart Centered Path retreat is a new pilot program that is intended to become a permanent part of TRI partnerships programs. TRI's Director is a founding member of War Survivors International (WSI) and is a Dance/Movement Therapy Adviser to Creative Forces, a Department of Defense and National Endowment for the Arts funded research program.
In this retreat, Veterans will have an opportunity to reconnect through daily immersion in the ocean. Whale encounters in the South Pacific require teamwork, tending to self and each other, athletic ability, and curiosity and openness. The physiological state shifts that occur likely promote enhanced Heart Rate Variability (HRV). The long slow exhales required to swim with the whales promotes vagal tone which can be detected through HRV. Veterans will swim in teams, and will also engage in mindful movement & mindfulness practice, and group process, including health education about heart health. We are measuring HRV and vagal tone with input from partners like WSI and using colleague Stephen Porges Polyvagal Theory grounded Body Perception Scale.
Another goal of this pilot project is to promote participants connection to the ocean. In this time of climate crisis, our own personal health (physical, mental, emotional, spiritual) cannot be separated from planetary health. The pulse of planetary health is the ocean. Simply put, the more members of the human species who can connect to, and perhaps even fall in love with, the ocean, the more likelihood there is that people will engage in effective action to promote sustainable climate recovery and planetary health. This is in service of us all.
TRI has raised half of the costs of this pilot program ($20,000.00), from The Frost Foundation. We are seeking another $20,000 to make it a reality. Working with partners like WSI, Creative Forces, and Women Veterans of New Mexico will ensure follow up once returned home, and future opportunities to grow the program. We welcome donations.
4. Dadirri Healing Dance Exchange: Darwin, Australia 
Information coming soon—check back next week!