Amber joins the faculty of 1440 Multiversity to offer her popular class, Ground in the Swirl.
WHEN: April 27, 1-4 PM PST
WHERE: 1440 Multiversity Online Learning
---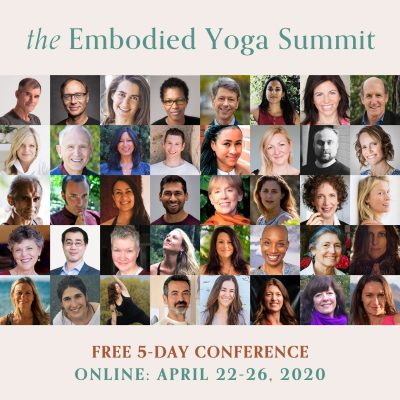 Amber joined the Embodied Yoga Summit and a fantastic line-up of 40+ embodiment researchers and yoga facilitators in this free online conference.
---
Listen to Amber's recent podcast with Kate Shannon of Creative Therapies Umbrella
---
Advanced workshop for DHHS funded Sexual Assault Workers Trauma and the Moving body – Movement Therapy for Sexual Assault Survivors
Dates: April 21st & 22nd, 2020
From: 9.30am – 4.30pm
At: Queen Victoria Women's Centre
210 Lonsdale St.
---
Santa Fe New Mexican article on TRI's partnership with local wildlife relief organizations in Australia.
---
May 17, 2019: Amber is teaching Trauma and The Moving Body in Seattle; this course is approve for Alternate Route for dance therapy students seeking their R-DMT, and is also approved for 13 CE;s for mental health professionals nation-wide by R Cassidy.
---
May 10-12, 2019: Amber, Elise Gent and The Railyard Performance Center invite dear friends and members of Grammy-nominated Racine band Boukman Eksperyans to teach and perform in Santa Fe.
---
Amber is presenting on self care and practical approaches to working with children affected by trauma foe educators and school counselors in Napa Valley. March 13–15. Click here for conference information.
---
Amber and Continuum colleague Sharon Weil are co-presenting a Master Class on Continuum as a movement practice ("Uncovering Unconscious Resistance: Navigating Change Trough Movement") on Friday, March 29, 2019 at the Los Angeles Expressive Arts Summit. Conference link here.
---
Amber is speaking at the annual NASW-NM conference on Thursday, March 7, 2019
---
Amber is an invited speaker at PACFA's annual conference, February 23-34, 2019 in Sydney, Australia
---
Body as Voice: Restorative Movement Psychotherapy for Trauma Part 2 in Austin, Texas. February 15-18, 2019. Information here.
---
Jan 12, 2019: Trauma and The Moving Body at Pratt in NYC.
Click here for more info.
---
Watch Amber's latest talk on Dance/Movement Therapy and Survivors of Torture at ADTA.
---
---
---
---
New Podcast Episode with Amber
Let's dig into the science behind dance/movement therapy as a highly effective & suitable treatment choice for trauma survivors. In this episode, Amber Gray talks about her collaborative work with "Distinguished University Scientist" Stephen Porges, who discovered the Polyvagal Theory.
---
---
Listen to Amber on the latest episode of the The Embodiment Podcast.
Experienced dance movement and trauma therapist Amber joins Mark to discuss humanitarian work, polyvagal theory, state sharing, self compassion and self care when you work with trauma, the new trauma rock stars, humour, and not wearing kid gloves. We also discuss simply "what works" in trauma, and offer practical trauma-related tips for any embodiment professional.
---
---
Amber is presenting on her work with refugees at at The American Dance Therapy Association Conference in San Antonio, Texas; Friday, November 3, 2017
---
Amber is presenting on her work with refugees at The Expressive Arts Summit in New York City on Friday, October 13th
---
Body as Voice Training Series in Australia, December 1
---
Amber's Body as Voice Training Series in Bologna, Italy, February 22
---
Amber's Trauma and polyvagal-informed "Body as Voice" movement based training series begins in Santa Fe, January 19–22
---
The Kint Institute is accepting applications for its second year Certificate Program in The Creative Arts and Trauma
---
Amber's chapter, co-authored with Dr. Stephen Porges, "Polyvagal-informed Dance Movement Therapy with Children who Shut Down" is hot off the press.
---
Click Here to Read Amber's Most Recent Publication on her Polyvagal Informed Dance/Movement Therapy
---
Amber Gray and colleague Tarrie Burnett spoke on their programs for to empower Refugee Women at the UN Convention on Women, March 17, 2017. View Past Event and Photos here.
---
February 17-20, 2017: Body as Voice: Restorative Movement Psychotherapy for Survivors of Trauma in Austin, TX
---
Amber's latest podcast: A Tool Kit for Post Election Distress Syndrome with Amber Gray. Have you felt immobilized by the results of this presidential election? Shut down? Off-balance? Somatic psychologist, Amber Gray, talks with Sharon Weil about how terror and fear affect the body, creating either a shutting down response or an impulse towards fight or flight action. She provides essential and helpful insight and tools for finding calm, restoration, and a return to mobility and social engagement after difficult events. These tools apply to any stressful, shocking, or life-altering change. Listen and find comfort in her words.
---
Read Amber's latest publication on Continuum Movement, Somatic Psychotherapy and Trauma in Somatic Psychotherapy Today
---
Amber is a panelist with keynote speaker Dr Stephen Porges and will present "Restoring Core Rhythmicity: Polyvagal-informed DMT for Trauma" at the 51st ADTA conference
Polyvagal-Informed Therapy for Trauma, Attachment and Autism
Saturday, October 22, 2016 Hyatt Regency Bethesda (Washington DC Area)
---
Amber is teaching "Right to Embody" a Human Rights Movement Workshop in Berlin at Body IQ, October 14-16, 2016
BODY IQ is a festival that celebrates ourselves as living, pulsating bodies. Without the body there is no experience and without experience there is no ground for intelligence.
BODY IQ is a festival of and by the conscious body – ensuring discovery, exchange and unexpected synergies. International experts, artists and teachers gather distinctions and commonalities of somatic approaches, then disseminate them into a wide spectrum of applications, penetrating – from arts to healing to politics – many domains of human activity. BODY IQ aspires to be a platform that generates impulses for the knowledge, wisdom and wonder of the conscious, human form.
---
Listen here to Amber's recent podcast in Sharon Weil's changeability series.
---
Amber is a featured change expert in Sharon Weil's newest book, ChangeAbility: How Artists, Activists and Awakeners Navigate Change. Available wherever good books are sold!
---
Introducing the Kint Institute's Creative Arts Therapies and Trauma Certificate Program
The Kint Institute is pleased to announce our post-masters certificate training program on the Creative Arts Therapies and Trauma, launching Fall, 2016.
The training program begins in September in New York City at the beautiful IAC building. Explore www.kintinstitute.org for more details, including training curriculum, application, as well as information about our cutting-edge faculty.
We are welcoming applications for our inaugural cohort of creative arts therapists and clinicians of other disciplines who are interested in the arts and trauma treatment. Please consider joining us, as well as sharing the website with colleagues who may be interested.
If you have any questions or want more information, don't hesitate to reach out atinfo@kintinstitute.org.

Ambers review of Dr van der Kolk's book The Body Keeps the Score published in the American Journal of Dance Therapy.

Read Amber's Latest Article: What Language Does Your Body Speak: Some Thoughts on Somatic Psychotherapies in International Contexts

Listen to Amber's Interview at The West Coast Trauma Project
Body as Voice: Restorative Movement Psychotherapy for Trauma Treatment, July 13-16, 2015. Kinections, Rochester NY. The clinical use of Dance Movement Therapy (DMT) with survivors of trauma. First in a three part series. Discusses DMT theory, Center Post Trauma and Resiliency Framework and Restorative Movement Psychotherapy, and neuroscience as a growing evidence base for DMT with trauma survivors.
Click for more Info
Body as Voice: Restorative Movement Psychotherapy for Trauma Treatment, May 22-25, 2015. Vancouver, CA. This introductory "overview" workshop will balance theory with experiential learning to introduce participants to some of the core restorative components of the Center Post Trauma & Resiliency Framework (CPF) and its clinical counterpart, Restorative Movement Psychotherapy.
Click for more Info
Amber's upcoming presentation in Beirut: Tending the Fire: Mindful Movement and Body-Based practices for Well-Being at the 9th annual NISCVT conference Towards a better well being: Inter-sectoral approaches in Mental Health, Galleria Hotel, Beirut, Lebanon, May 8-9, 2015. Click for more Info
Listen to Amber's Interview with Sharon Weil on Passing 4 Normal
"Refugee Mental Health: A Challenging Need". Amber is one of the invited speakers to Gulf Coast Jewish & Family Community Services National Symposium:
Click here for more information.
Check out Dance Movement Therapy with Refugee and Survivor Children: A Healing Pathway is a Creative Process, Amber's latest chapter, published in "Creative Interventions with Traumatized Children" edited by Cathy Malchiodi, Guilford Press, 2014.
Click here for more information.
Amber's chapter on Continuum Movement and founder/originator Emilie Conrad published in Inner Dialogues in Daily Life. This chapter is a personal account of Amber's journey with Continuum Movement, and its bold and innovative originator and teacher, Emilie Conrad. The chapter also covers Ambers work in conflict and disaster affected areas.
Click here for ordering information.
Amber co-authors chapter on Refugee Mental Health Screening
Link to information on this first-of-its-kind book about refugee health